Outsmart Your Upcoming Move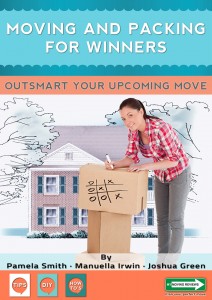 Moving And Packing For Winners: Outsmart Your Upcoming Move is a dedicated project that best summarizes the modern packing practices by offering a great deal of moving tips, including DIY relocation advice, a complete packing guide for a successful  move, and more.
The book centers on your moving arrangements: your mental preparation, great organizing ideas, the top moving mistakes and how to avoid them, as well as how to proceed when the law prohibits movers from taking some of your household items.
The ultimate packing guide comes next where you get valuable information on how to best pack your stuff for moving. Specific techniques, useful guides and practical tips – it's all there.
Moving And Packing For Winners ends with invaluable pointers on how to treat you moving crew and what steps to follow when you leave a moving review which enable you to honestly rate your movers and tell the world whether you've been satisfied with their relocation services or not, and why.
Written by a team of esteemed relocation experts, the masterfully organized chapters get you completely ready for Mr. Moving day.
Be a smart decision-maker and make all the right moves!
We wish you the best of luck!
---
Some Topics Covered In The Book:
---
Top 10 Best Organizing Ideas For Moving
Non-Allowable Items: What To Do When Movers Say No
How To Pack Your Kitchen
DIY Moving: How to pack and move bulky or heavy household items
Why And How To Write A Moving Review
Click here for an exclusive preview of the book's unabridged table of contents.
---
Get It For Free – Download Your Preferred File Format
---
---
About The Authors
---
Unabridged Table Of Contents
X
Introduction
How To Mentally Prepare For A Move
"Plans are nothing; planning is everything"
It's time to say goodbye
You are what matters most
A change might do you good
Top 10 Best Organizing Ideas For Moving
Be prudent when choosing your moving service
Box it in and pack it up
Devise a clever sorting system
Make a survival kit
Guard your valuables
Get rid of excess stuff
Accept any help you can get
Let your camera be your pal
Spread the word
Make it children and pet safe
Bonus idea: Start early and don't rush yourself
Top 10 Moving Mistakes And How To Avoid Them
1. Not planning your move
2. Failing to ask for an in-house estimate
3. Not obtaining multiple moving quotes
4. Not researching the moving companies
5. Choosing the company with the lowest quote
6. Bypassing items during the estimate
7. Packing poorly the day before the move
8. Failing to understand your insurance options
9. Entrusting irreplaceable valuables in the hands of the movers
10. Not understanding the moving paperwork
Non-Allowable Items: What To Do When Movers Say No
Hazardous materials
Perishable food
Pets and plants
Irreplaceable items
The Ultimate Packing Guide:
Picking the right materials
How to fit your entire house in the boxes
How To Pack Your Bedroom
Make a list of all bedroom furniture
Start with your clothing, jewelry and other personal belongings
Bedding, carpets and curtains
Packing bulky items
The best way to move your wardrobe
How To Pack Your Kitchen
Packing Supplies
Wrapping and stacking your breakables
How To Pack Consumer Electronics
How to pack your TV: step-by-step instructions
How to pack your computer: step-by-step instructions
How To Pack Pictures And Mirrors For A Safe Move
What materials you will need to pack your pictures
Packing for a move can be extremely hard
DIY Moving: How to pack and move bulky or heavy household items
Preparation
King Size Mattress
King Size Bed
Wardrobe / Dresser / Desk
Sofa / Couch
Bookcase
Heavy kitchen appliances (refrigerators, freezers, washing machines, dish washers, cookers)
Protecting the floors and the walls
Final tips:
Treat Your Moving Crew The Way You Want To Be Treated
Be there on time
Make them feel welcome
Provide timely information
Be considerate of your crew's needs
Keep the communication channel wide open
Be polite and well-mannered
Show your gratitude
Why And How To Write A Moving Review
Why take the time to write a moving review
Give and you shall receive
Responsibility
Regulatory power
Dispute solver
Sympathetic ear
What to observe when writing a moving review
How to write a moving review
Glossary Of Moving-Related Terms