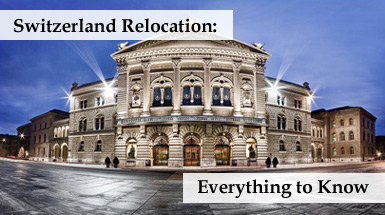 Switzerland – a beautiful, picturesque country that many people move to for a wide variety of reasons. Relocating to a foreign country can be as exciting as it seems and at the same time a bit frustrating. There are many things to consider, plan and think about before you move to live in Switzerland. This country can give you a lot but you have to prepare in advance. When moving to Switzerland as an expat, you may be wondering: "What do I need to know?". The tips we will give you here plus info on the cost of living, customs regulations and car registration are what you should be informed of when relocating to this great country. You can easily make your move abroad simpler. After our guides on moving to Germany, relocating to Australia and the UK, it is time to present to you our guide with moving to Switzerland advice.
Moving to Switzerland Info
This neutral country uses 4 languages so if you are moving to Switzerland from a country speaking German (being spoken by the largest percentage of people), French (used more in the west), Italian (in the south) or Romansh, you will not feel that large language barrier if you spoke none of those 4 languages. If you are moving to Switzerland from Canada, UK or another English speaking country, then learning a bit from the local languages will be a relief. English is spoken but it is not an official language. The Confederation comprises of 26 cantons. It is a Federal Republic with about 8 million people population. 23% of those are foreigners.
The country has various climates but most of it is temperate. The southern part is more mountainous and the southest has Mediterranean climate. Summers are humid and warm. One of the unique features of Switzerland is that it has more than 1 500 lakes! You can also enjoy the beautiful city of Basel with its medieval town center, Lucerne – an attractive toursit destination, Lausanne has plenty of museums you can visit and lots of other interesting places, from Winterthur you can take a boat across the Lake Zurich… The opportunities for fun and joyful experiences are countless in Switzerland.
The economy is stable and high-tech which makes the country and attractive center for those earching for largely new experiences not only in relation to climate and culture but also in terms of getting a job. Unemployment is minimal and compared to other developed countries, taxes in general are very low. It has free trade agreements worldwide and making business there is relatively easy. If you are moving to Switzerland from US you will find health costs much lower; however, they are higher than compared to the other European countries like Germany and France. It is good to study a bit what the different parts of the country offer as this will matter in terms of fidning the right job for you and choosing to live in an area where certain languages are more spoken.
If you are moving to Switzerland with pets, you can learn what to do step by step on the Swiss Federal Department of Home Affairs website.
Moving to Switzerland Advice
Car Registration. If you are moving to Switzerland from EU country that has a language not recognized as official in Switzerland (Netherlands, Ireland, Poland, etc.) you will need to have an international driving permit or driver's license. In the opposite case you can use your driving license for 12 months. If you are a European moving to Switzerland or you come from Iceland, Lichtenstein or Norway, you can directly exchange your driving license for a Swiss one without taking practical tests and theory but until one year after your arrival. There is a list with countries which are allowed to take only the theory exam. So this is what you can expect to happen to you if you are moving to Switzerland from Australia, USA, Canada, New Zealand, Singapore, Taiwan and Japan.
Swiss Customs Regulations. You are allowed to bring your household goods and your pets to Switzerland. However, when crossing the border there is a custom's declaration to fill in. The so called "declaration box" is placed at the border and you need to declare ALL goods and their cost. If you fail to do that, you will not be allowed to do it afterwards and in a case of an inspection, you will be considered to have committed a criminal offence. If you are moving to Switzerland from New Zealand you are advised to register your details with the Ministry of Foreign Affairs and Trade for assistance with you move because the Ministry does not issue an official travel advisory for Switzerland.
Relocation expenses. When it comes to moving to Switzerland costs for the relocation can be estimated on this link. The price for your move will largely depend on which country exactly you are coming from and what you are bringing with you. Once you fill in our moving estimator, you will be contacted by professional removal companies with a price quote. When moving to Switzerland from the UK you can look for a removal firm here.
When moving to Switzerland cost of living is another thing important to know. It is one of the highest in the world with Geneva, Bern and Zurich being amongst the top of the most expensive cities. But the same goes true for salaries, working wages and quality of life. The country is efficiently organized with good infrustructure. A disadvantage is that most people live in rental properties – in other words expect about 20% of your income to go to your rent. Utilities are usually excluded from your rent. You may be asked to give a deposit of three months' rent in advance. Food there is amongst the most expensive in the world. Still, have in mind that cost of living will vary between cities and cantons. When moving to Switzerland as an expat explore the prices in the areas you are interested in, in order to avoid unpleasant surprises. For the Americans or English moving to Switzerland that price level will not be as shocking as it may appear for people relocating from cheaper countries like Spain and Ecuador.
When relocating to Switzerland follow the advice and tips here. Preferably make a checklist with the things to do because every move to a different country is stressful. You need special preparation when moving to Switzerland as this is a country with a higher lifestyle and costs. Therefore you will have to save more money to move there. Either way, relocating to this beautiful country will be easier if you use this guide. Wishing you a successful relocation!
Posted on Jan 31, 2014; Last updated: May 22, 2014
Topics: Country Moving Guides